Clinical Gastro 2023 Meeting &amp Hospitality
Address
Radisson Blu Hotel
Address: Zurich Airport Flughafen Zurich, Rondellstrasse, 8058 Zurich, Switzerland
Note: This is a tentative venue. Once we received the hotel confirmation, the confirmed venue will be updated soon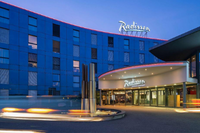 The City
The largest city in Switzerland, Zurich is a major contemporary art and shopping destination. Important artworks are displayed in the Kunsthaus and the Rietberg Museum, while those who consider shopping an art can hone their skills along Bahnhofstrasse and Niederdorf.

This city on Lake Zurich has excellent public transit and a free bike rental system. Zurich is Switzerland's centre of economic life and education. Located in the heart of Europe, the city offers all the modern amenities of a cosmopolitan metropolis, without sacrificing its natural side.

Zurich has for years ranked among the world's top cities in terms of quality of life. It is a boutique city that offers everything that implies, albeit in small and exquisite format. An economic hub, university city and boutique metropole by the water offering a high quality of life: Zurich combines the advantages of a green and modern city at the foot of the Alps with excellent infrastructure and a strong network of business, education and ambitious start-ups. The city is a centre of research, development, business formation and innovation, not to mention a great place to live.
Directions
Route Map